When it comes to building a home deck, many important questions need to be asked before beginning the project. Knowing what to ask your home deck builder is essential to ensure that you get the results you desire for your outdoor space.
From understanding the materials used and the timeline of completion, getting all the details right can help make sure that your dream deck becomes a reality. This article will provide insight into some of the essential questions to ask when hiring a professional home deck builder.
What is Your Experience in Deck Building?
When it comes to deck building, the experience of your home deck builder is a critical factor in making sure that your project is successful. An experienced contractor will be able to provide you with an accurate timeline for completion, as well as guidance on how best to use materials and what type of design would work best for your space.
They will also have the expertise needed to handle any potential issues that may arise during installation, such as needing additional support or dealing with weather-related delays. Moreover, they should be able to provide helpful advice on which materials are most suitable for the outdoor environment and ensure that all safety standards are met throughout the process. Ultimately, their knowledge and previous projects can help make sure that your new deck lasts long after construction has been completed.
What Type of Materials Will You Use?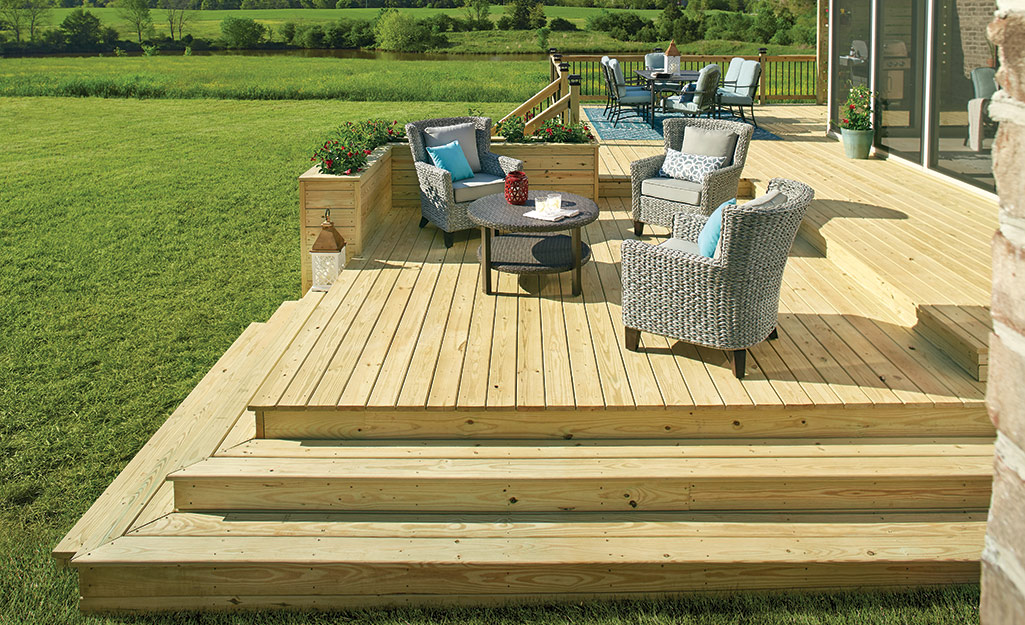 When beginning a home deck-building project, it is essential to consider the type of materials that will be used. The choice of wood, composite material, or aluminum can have a significant impact on both the budget and timeline of the project.
Additionally, each material has its own maintenance requirements and lifespan. Working with an experienced home deck builder ensures high-quality results as they understand which material best fits your needs while taking into account any environmental factors such as exposure to moisture or direct sunlight. Be sure to discuss what type of materials you wish to use for your deck before starting work to ensure that you get the perfect result without compromising on quality or safety.
How Long Will the Project Take to Complete?
No matter what size or complexity your home deck project is, it's essential to determine how long the job will take to complete. The timeline of any deck-building project depends on a variety of factors including materials selection, permits and inspections, weather delays, and labor availability.
A reputable home deck builder should be able to provide an accurate estimate for the completion of the job. Before agreeing to hire a contractor for your outdoor project, make sure you ask them questions about their timeline and make sure they are realistic with their expectations.
They should give you an approximate start date as well as a ballpark end date so that you can plan accordingly. Also, inquire if there are any contingencies in place in case something goes wrong or takes longer than expected – such as bad weather, etc.
Be aware that many contractors may require partial payment upfront before beginning work which means additional time must be taken into account when budgeting for the project overall too. Ultimately asking these important questions ahead of time, it will help ensure your dream outdoor oasis comes together without any hiccups!
Conclusion
When selecting a company to build your deck, it's important to ask the right questions. Questions such as what materials they use, how long their projects typically take and any warranties offered by the deck companies should be asked. Additionally, one should inquire about whether or not the company is licensed and insured for liability purposes.
Furthermore, you may want to ask them if they provide maintenance services after construction has been completed. Asking these essential questions before starting a project will ensure that your home deck builder has all of the necessary information to complete your project on time and within budget.